How To Make Chocolate-Covered Strawberries
February 20, 2008
Roger and I usually don't make a big fuss about Valentine's Day. We keep it low-key with dinner at home, something a little nicer than we generally eat, and we just spend time together. I love it so much more than going out to eat or to some sort of performance, or whatever it is that other people do on Valentine's Day, because in general I think the holiday is just too commercialized. There's too much pressure on guys to do something special for that one day, which I think is lame. Guys should do something special because they want to, not because they feel obligated by society. And since Roger does special things for me so frequently throughout the year, Valentine's Day is really just like any other day. Except with more dishes for me to wash.
During lunch on February 14th, I got a wild hair and decided to make chocolate-covered strawberries. Blame that ad I saw in AmericanWay magazine, if you'd like. Here's how I did it: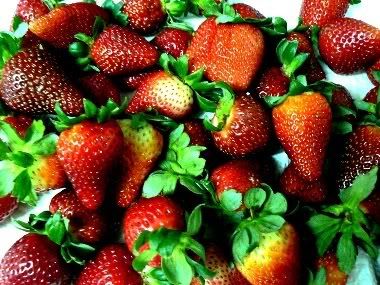 Wash and dry the strawberries. Be sure to dry them really well, because water causes melted chocolate to seize.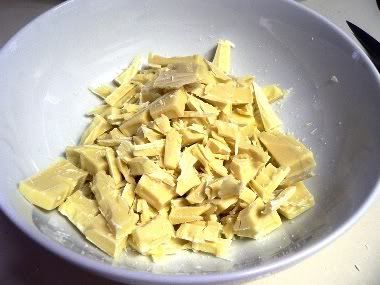 Melt the white and milk chocolates. In separate bowls, preferably. Lay a sheet of wax paper on the counter.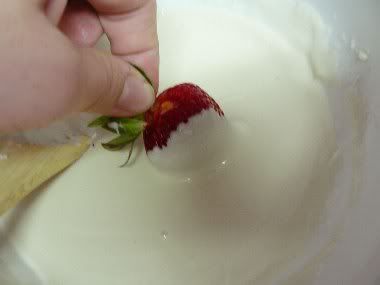 Holding each strawberry by the stem, dip it in the white chocolate, swirling to cover the berry completely. Once dipped, gently shake the excess chocolate off the berry. Hold upside down for a moment to make sure the chocolate adheres to the berry's flesh.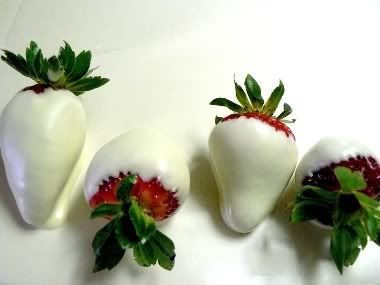 Place the strawberry on the wax paper to dry. This should take 3-5 minutes.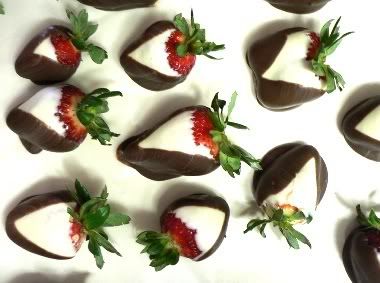 Once the strawberry is completely dry, dip it from side to side in the milk chocolate to form a "V" shape. Replace on the wax paper and allow to cool again.
Scoop remaining melted chocolate into a small plastic Ziploc bag. Clip off a corner of the bag – as tiny as possible – to pipe on the buttons and bowtie.
I didn't melt enough of the white chocolate, so I couldn't make all tuxedos. To make the chocolate strawberries with white chocolate drizzles, I dipped half of the strawberries into the milk chocolate and let them cool. I poured the remaining white chocolate into a plastic bag, clipped off the corner, and drizzled the white chocolate over the milk chocolate bodies. It was a good solution for the limited time I had, otherwise I would have just melted more white chocolate.
I dropped off some of the chocolate-covered berries at Roger's office for a sweet after-lunch surprise, and took the remaining strawberries to share with my co-workers.
They're best to eat the day they're made. This isn't usually a problem, since the strawberries don't last long.