Lindsay Lohan: Drunk? High? Just having a good ol' time in the alley?
September 21, 2006
As a former dancer, from back in the day when my age ended in "teen," I can say with certainty that some people just shouldn't attempt certain maneuvers. Kicking, for example, without first stretching. Or without learning the skill of kicking so your knee does not bend and your back does not hunch. (Her body? It shouldn't be in the shape of an "S".) Or without learning how to prevent your bottom foot from turning outward. Which probably occurs because you didn't stretch. It's a vicious cycle.
Lindsay Lohan was recently caught on video performing an odd assortment of kicks in the middle of a deserted alley, in between puffs on her cigarette.
AND: What are those boots she's wearing? Stop it.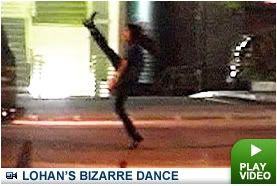 La Lohan: She's so classy.